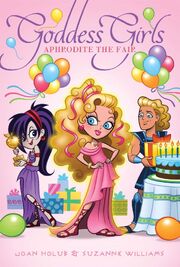 Aphrodite The Fair is one of the books after Iris the Colourful. Nothing much is known about this book than on the blurb. Ares is to have his 13th birthday party and Aphrodite tries to make it extra special, although Eris has other plans. 
About
Eris is the goddessgirl of discord and strife, so she's going to crash her brother Ares' thirteenth birthday party. 
Trivia
Eris makes her book debut.